Hoverboard? Still in the Future
Hoverboard? Still in the Future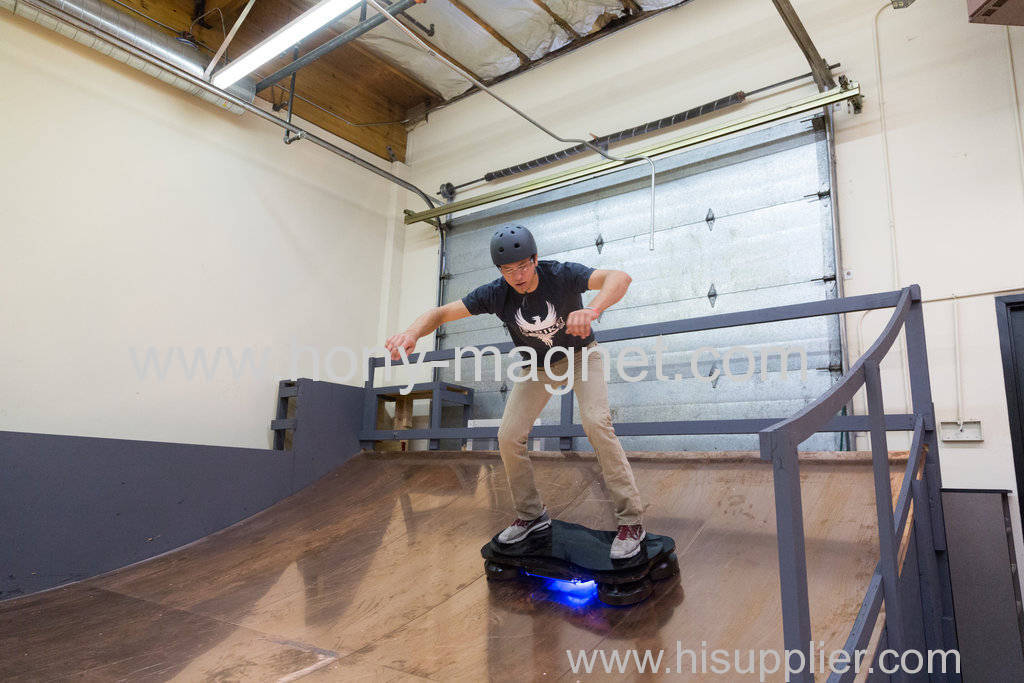 The hoverboard is fiction, the vision of screenwriters who created the film about Marty McFly, a teenager who travels from 1985 to Oct. 21, 2015, and uses a floating skateboard to flee a gang of bullies.
The movie had other futuristic items, like flying cars and self-tying shoes, but none touched the imagination as much as the hoverboard. For the last 25 years, garage tinkerers, physics professors and top engineers at Google have been trying to make one.
Inside a drab office park here in Northern California, Greg and Jill Henderson are working on the latest effort. On a recent visit the couple allowed a reporter to stand atop a noisy magnetic skateboard that can float above a copper surface.
It hovers about an inch above the ground. But when the 190-pound visitor stood atop the 100-pound board, one gentle push was enough to send him spinning across the room over a cushion of air.
The Hendersons have poured their life savings into hover technology and are hoping to create new industries based on this science.
Dustin Rubio, 39, an electrician who grew up skateboarding and saw "Back to the Future Part II" when he was a teenager, is not thinking quite that big.
This year, Mr. Rubio turned "a leaf blower, some plywood, some plastic and duct tape" into a small hovercraft that his daughters used to glide down the driveway at his home in Napa, Calif. "I was like I'm just gonna make something funny and see if it works," he said.
Unfortunately, his invention is not really a hoverboard. Bob Gale, who wrote the "Back to the Future" trilogy, said that, in his imagination anyway, the hoverboard floats on a magnetic field similar to magnetic levitation trains.
This has been extremely difficult, mostly because of something called Earnshaw's theorem, which states, more or less, that repelling magnets are tough to balance. One way is to use a track that would hold the magnetic skateboard in place, but what self-respecting skateboarder wants to be constrained to a track?
Superconductors can also levitate things. In 2011, a research group directed by Alain Sacuto, a physics professor at the Université Paris Diderot, used smoking-cold superconductors to levitate a liquid-nitrogen-filled skateboard that he and others rode across a five-meter magnetic rail.
In March, the website Funny or Die released a video that seemed to show the skateboarder Tony Hawk on a real hoverboard. Mr. Hawk later apologized for misleading fans.
"As early as this morning I had three emails from people: Is this real? Can I buy it?" Rachel Goldenberg, who produced the video, said on Monday.
If you had to time-travel back to 1989 and place a couple of bets on who might invent the hoverboard, Rich DeVaul would have been a good wager. Mr. DeVaul is a senior engineer at Google X, the company's research division. He is also a longboard skater and a snowboarder.
Last year, Mr. DeVaul and a Google mathematician, Dan Piponi, tried to crack the hoverboard. They got as far as a fingernail-size piece of carbon that could hover above a lattice of small magnets.
They remain confident they could have built a board, but are less confident they could have found a use for it. Mr. DeVaul imagined several applications, like a futuristic assembly line where robotic machine tools could levitate from job to job.
"I was racking my brain because I so wanted to build this damn thing," he said.
But, he added, "We weren't sure exactly what big problem we were solving except for this global lack of hoverboard skate parks."
It turns out Mr. Henderson was working on this very thing not far from Google's headquarters in Mountain View.
In the back of his office, there is a bright copper halfpipe that may well be the first hoverboard skate park. Mr. Henderson, though, doesn't even skate and his "Hendo Hoverboard" is basically a publicity stunt.
Mr. Henderson became enamored of hover technology in 1989. His inspiration was not "Back to the Future," but the Loma Prieta earthquake. His idea was that if you could make buildings float, you could build cities to better withstand earthquakes.
Over the next 25 years he graduated from West Point, served in the Army, worked in finance and construction and went to architecture school. He spent most of the last decade designing apartment and condo buildings. Two years ago, he started his company, Arx Pax.
The business plan is to develop magnetic technologies and license patents to builders, engineering firms, the Green Goblin and anyone else who might need to hover something.
Mr. Henderson may be a dreamer, but he is enough of a realist to understand that people are likely to be more interested in hovering skateboards than they are in his ideas for new kinds of building foundations.
"That's why we picked the hoverboard: to capture that attention," he said. "If one in 10 people realize there is another use for this stuff, that would be a great success."
The Hendo Hoverboard is not yet for sale. On Tuesday, he and his wife will start a campaign to raise $250,000 on Kickstarter ,the crowdfunding site.
They won't be alone. Kickstarter already lists several campaigns for hovering contraptions, including HoverSkater, a hovercraft-like board, and the NeoLev, a miniature hoverboard.
The original hoverboard was also a product of architecture. Mr. Gale, the screenwriter, said that when he and Robert Zemeckis wrote "Back to the Future Part II," they envisioned a future in which people had abandoned suburban malls for more pedestrian-friendly downtowns.
To showcase the town square, they recreated a skateboard chase from the first film, which takes place in 1955, only this time with a flying skateboard.
Rumors of a real hoverboard began after Mr. Zemeckis told an interviewer that the technology was real but that "parents' groups" had prevented toy makers from producing the skateboards, prompting an avalanche of letters from boys like Dave Mertes. In November 1989, he wrote Universal Studios asking if he could buy a hoverboard.
Mr. Mertes, now a 36-year-old clothing designer in Seattle, said he was crushed when it turned out that Mr. Zemeckis was joking. "I would have never written to George Lucas asking for a light saber," he said. "But I was like, oh, the director just said it was real. How can I get one?"Mr. Mertes, now a 36-year-old clothing designer in Seattle, said he was crushed when it turned out that Mr. Zemeckis was joking. "I would have never written to George Lucas asking for a light saber," he said. "But I was like, oh, the director just said it was real. How can I get one?"
---