Lease a Smartphone or Buy It? The P...
Lease a Smartphone or Buy It? The Pros and Cons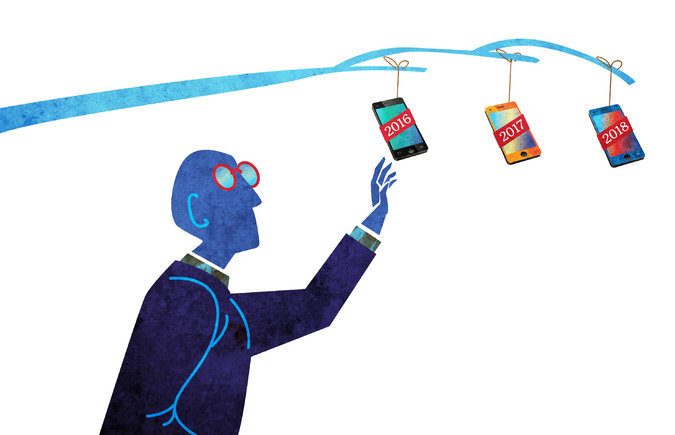 FOR at least $600 a handset, popular smartphones like Apple's iPhone and the Samsung Galaxy are expensive. So why not lease one for a low monthly rate, and while you're at it, get a new phone every year? That's the sales pitch that wireless carriers and others are using to lure people into trying a phone plan known as an "early upgrade plan," under which consumers can buy devices more often than every two years. The plans are in vogue right now since Apple followed carrierslike AT&T and Verizon Wireless by offering its own annual upgrade plan for the iPhone in September.
The idea underlying early upgrade plans is simple: You lease a smartphone, and after a certain amount of time — say, one year — you trade in your current device and start a lease for a brand-new phone.
We decided to do the math to take a closer look at the pros and cons of the early upgrade plans. We found that if you upgrade every year, you pay more over time than if you paid off a device and held on to it longer.
But we also found that the extra costs of leasing are reasonably low, making early upgrades ideal for tech-loving consumers with disposable income. The plans can also be beneficial even if you don't intend to trade up to a new device every year but want to reserve that option — in other words, you can take advantage of these plans just for flexibility.
"There is nothing forcing you to go for an early upgrade," said Toni Toikka, the chief executive of Alekstra, a company that analyzes phone bills and helped The New York Times with the calculations. "They are a good thing, if you understand them correctly."
How Early Upgrade Works
In the past, smartphones plans worked like this: You would pay a one-time down payment for a phone and sign a two-year contract, which included the costs of wireless service combined with the remaining cost of the device. People would typically have to wait two years to pay off the rest of the phone before earning the privilege of getting another device at a subsidized rate.
Now the wireless industry has shifted toward so-called equipment installment plans, which state the phone's actual cost and let you spread out the payments over monthly installments. Many of these plans have built in an option for an early upgrade, so people can hand in their phone early and start a payment plan for the next device. Apple, AT&T, Verizon Wireless, T-Mobile and Sprint each offer slight variations in early upgrade plans.
To do the math on the plans, we decided to use a 64GB iPhone 6s as a base example and add up the costs of leasing the phone over a year.
Under Apple's iPhone program, which includes coverage from its device insurance program, AppleCare Plus, you would pay $36.58 a month for a new 64GB iPhone 6s. Over the course of one year, that's $438.96 to lease the phone.
For AT&T's annual upgrade plan, called Next 12, you would pay $37.50 a month for 12 months before getting the option to trade in for the next iPhone. The total over a year is $450.
Verizon's early upgrade plan totals $374.88 in leasing cost over a year, while Sprint's iPhone Forever program's total cost for a year before an upgrade added up to $321.24. With T-Mobile's early upgrade plan, you make a down payment of $99.99 for the 64GB iPhone, and pay $27.09 a month for a year before being able to upgrade, with the cost over the year coming to $425.07.
So how do those early upgrade plans for a 64GB iPhone, which we now know cost from $321 to $450 a year, compare to owning a device before buying a new one?
If you were to fully purchase a $750 iPhone and use it at least two years, that would amount to $375 a year. But you also have to consider that after you have paid off a phone, you can sell it.
For example, if you bought an iPhone 6s for $750, in two years you could probably sell it for about $175, reducing the overall cost of ownership to $575, or $287.50 a year; after you're done paying for the device, the equipment cost is removed from your phone bill. That makes owning a device outright cheaper than the leasing plans.
Who Are the Plans Good For?
If owning a device fully costs less, that raises the question of who these early upgrade plans are suited for. Our conclusion: The plans can be good for those seeking the freedom to upgrade, as long as you have leased the phone for a certain amount of time or paid it off entirely. In the past, you would typically have had to wait two years or pay a stiff fee to upgrade early.
An important point in all of the early-upgrade plans is that you are not forced to keep leasing new phones every year. If you are happy with your current phone, you can keep it until you have fully paid it off, at which point you own it; you pay nothing extra to do so.
Let's say, for example, you subscribed to AT&T's Next 12 annual upgrade program. This program gives you up to 20 months to pay off the phone and own it. So let's imagine that in 12 months, an iPhone 7 comes out and you are not excited about it. You can just continue paying your lease for eight more months until you own your phone.
By the time the 2017 iPhone comes out, you can sell your current iPhone and start a new lease for the brand-new phone. In this situation, you had the option to upgrade early, but you ended up waiting two years before upgrading and paid no premium.
Buying Advice
So which early upgrade plan should you choose? First check the coverage maps for each phone carrier to see if the network is good where you live. Then decide by price.
T-Mobile and Sprint offer the cheapest leasing plans, so if their networks near you are strong, go for one of those. If not, consider leasing through AT&T or Verizon. Note that Apple's upgrade plan, which includes insurance, is cheaper than AT&T's without insurance, and just slightly more expensive than Verizon's leasing option without insurance. If you are an accident-prone iPhone owner, Apple's early upgrade plan with baked-in device insurance offers great value.
It remains unclear whether many consumers will want to upgrade every year. Data from multiple research firms suggests that consumers on average still wait at least two years to upgrade to new smartphones. Piper Jaffray, the investment firm, estimates that only 10 percent of iPhone owners are annual upgraders, though it expects that number to grow to 75 percent by the end of 2018.
It's no wonder annual upgraders are a small group: As this column illustrates, early upgrade plans can be confusing and, in some ways, intimidating.
As far as upgrades go, I'm an advocate for cherishing items for as long as possible. After testing the iPhone 6s for a few weeks and switching back to my iPhone 6, I am still just as satisfied with the older device.
"Why do we constantly need new things?" said Kyle Wiens, the chief executive of iFixit, a company that sells parts for people to repair products. "Why can't we be happy with what we have?"
---