As Downloads Take Over, a Turning P...
As Downloads Take Over, a Turning Point for the Video Game Industry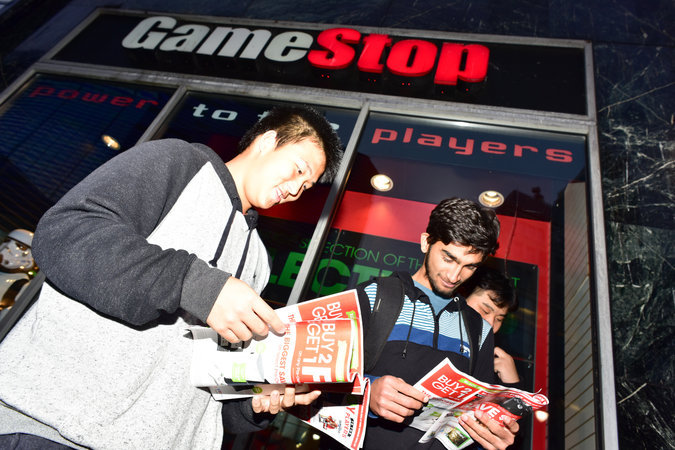 SEATTLE — This holiday season could be remembered as a digital watershed for the games business, the moment when the old way of selling video games — on discs in boxes — finally gave way to downloads.
The industry has been pointed in this direction for years. But the signs of a sharp turning point have piled up in the last month, as new data points have painted conflicting pictures of the game industry.
On one hand, recent market research shows that physical game sales declined in November, and GameStop, a leading retailer, reported disappointing earnings that made its stock tumble.
On the other, game companies swear that things are going great. Big titles are setting sales records, and Sony, the leading maker of game consoles, says the latest PlayStation has been selling at a faster clip than any previous generation of the hardware.
Why the disparity?
A number of factors are at play, but none as significant as the industry's march toward a future of games downloaded over the Internet rather than bought in stores, analysts said. All mobile games are delivered over the Internet, as are nearly all PC games. But the transition for console games — the biggest segment of the business — has been far slower. Large game files could take hours to download and quickly fill a console's hard drive.
Now, faster broadband speeds and the bigger hard drives in the latest generation of consoles are reducing those obstructions.
"It finally feels like the inevitable is becoming the inevitable," said Evan Wilson, an analyst who follows the game industry for Pacific Crest Securities. "It feels like this is the holiday season where it's finally having a big impact."
Electronic Arts, the big games publisher behind Madden and Need for Speed, says about 20 percent of its new console games are now downloaded, compared with around 10 to 15 percent last year. For other publishers, the number may be 25 percent or more.
As a result, it is becoming harder to judge the health of the industry based on sales of physical game discs. NPD Group, a research firm that tracks retail sales in the United States, showed a 7 percent decline in November game sales from the same month a year ago.
Mr. Wilson of Pacific Crest characterized the figures in the title of a research report: "Shockingly Bad NPD Data Shows Big Physical Challenges."
A couple of weeks earlier, there was similarly grim news from GameStop, the big specialty retailer, which blamed a disappointing earnings report for the period ending Oct. 31 on weak new game software and hardware sales.
Executives at GameStop caused a further stir when they said one of the most anticipated games of the season, Star Wars: Battlefront, had missed their internal sales forecasts during the quarter. The stock of Electronic Arts, the game's publisher, fell 5 percent the day of the remarks.
The numbers were particularly striking because if game sales are ever going to grow, the time is now. The biggest games of the year have just landed on store shelves — including Fallout 4, Call of Duty: Black Ops 3, and Star Wars: Battlefront — and demand for them is running high among holiday gift buyers. What is more, the industry is in the sweet spot of the hardware cycle, when the latest consoles from Sony and Microsoft are in plentiful supply and their prices have come down, and game publishers are cranking out titles that better exploit their capabilities.
Sony, for one, says its console sales have never been better. The company reported that it sold 30.2 million PlayStation 4s worldwide as of late November, just days after the second anniversary of the product. By comparison, it took around two years and two months for Sony to ship about 30 million PlayStation 2s — the previous high-water mark for Sony in the game business.
One factor in NPD's declining game sales is that the research firm does not include games that are bundled with consoles — an increasingly popular option for buying the machines — in its software sales data. But a much bigger reason is that it does not include digital downloads of games in its monthly tallies of the industry.
Liam Callahan, an analyst at NPD, said the firm includes digital sales in a game report that comes out every quarter. For the first nine months of the year, game spending on physical formats was flat compared with the same period in 2014. When digital sales were included, there was an 8 percent increase, he said.
"It's clear digital downloading is becoming a bigger deal," said Michael Pachter, an analyst at Wedbush Securities.
After GameStop's comments about Star Wars: Battlefront rattled investors, a senior executive at Electronic Arts, Peter Moore, said at a conference that there was "no weakness that is perceptible yet in the title." He reiterated the company's previous projection that it would sell 13 million copies of the game during its fiscal year.
The bigger threat appears to be for retailers that fail to adjust to the changing market. The list of retailers that have been vaporized by the Internet is long, including Blockbuster in movies, Tower Records in music and Virgin Megastores in both.
GameStop has increased its own presence in Internet-delivered games, but those changes have not moved the needle much. The company's digital revenue in its last quarter amounted to less than 2 percent of its total revenue. There are limits to how much the company can sell digitally, though, since Microsoft, Sony and Nintendo operate the online portals from which the games are downloaded.
GameStop has tried to diversify beyond video games by acquiring one retail chain that offers wireless products and another that sells and repairs Apple devices. Joey Mooring, a spokesman for GameStop, said the company's in-store staff members provide guidance for customers. And through its trade-in program for used games, customers can get credits toward the purchase of new games.
"Customers cannot access that expertise downloading a game, nor can they trade in a digital game for currency that can be applied to the purchase of their next game," Mr. Mooring said in an email.
Eric Lempel, senior vice president for marketing at Sony's American games division, agreed with the idea that many gamers want to talk to store staff members before making a purchase. The convenience of downloading a game directly to a console is appealing too, though.
"A lot of people are finding it easier to buy online," Mr. Lempel said. "It's open 24 hours a day."
---