At Windows 10 Event, Microsoft Jump...
At Windows 10 Event, Microsoft Jumps Into Augmented Reality With HoloLens Headset
REDMOND, Wash. — Microsoft wants back in the game, and it is using a little science fiction to get there.
The company has seemed adrift in recent years. But on Wednesday, it unveiled an unexpected new headset that allows interaction with holographic images, enabling people to play video games, build 3-D models and hold immersive videoconferences with colleagues.
With the device, HoloLens, Microsoft is entering an increasingly crowded area, with giant competitors, in the world of virtual and augmented reality. Whether Microsoft can outmaneuver those companies, like Facebook and Google, is far from guaranteed.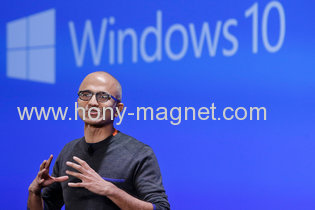 Still, the HoloLens could help renew some of the luster Microsoft has lost in the last decade, when it reacted late to critical new technology trends like mobile devices, cloud computing and Internet search.
Satya Nadella, Microsoft's chief executive, went even farther, saying that the new technology heralded a big shift in the industry. "Our industry's progress is punctuated by moments of category creation," he said. "Windows and holographic computing is one such moment." The device was introduced here on Microsoft's campus, at an event billed as a showcase for a seemingly more mundane product, Windows, the venerable operating system that runs about 1.5 billion personal computers. A menagerie of other devices that run on Windows 10 were also shown, as a way to illustrate the software's flexibility.
Certainly, though, HoloLens was the most eye-catching new product. Carolina Milanesi, an analyst at Kantar Worldpanel ComTech, a technology research firm, said the headset suggested that Microsoft wanted to help create new markets, rather than just protect old ones. "They're not just focused on retaining, but developing new opportunities," she said.
Microsoft is not the first company to create a 3-D headset, though. Facebook last year acquired one of the best known makers of virtual reality headsets, Oculus VR, for $2 billion, and Samsung and Sony are both working on their own headsets.
Those companies have emphasized virtual reality, in which a person's field of vision is enveloped by 3-D imagery, cutting off their vision of the real world. Some of Microsoft's HoloLens demonstrations showed virtual-reality-like applications, too. The NASA Jet Propulsion Laboratory said it would use the headsets this year to view panoramic imagery of Mars shot by the Curiosity rover and to conduct experiments on the red planet.
The headset can also display what is called augmented reality, inserting virtual 3-D objects into the real world around people wearing the device. Its lenses are see-through so that users can continue to view the physical environment around them. In October, Google invested $542 million in another company, Magic Leap, working on its own augmented reality technology.
In one demonstration, Microsoft showed a version of Minecraft, the hugely popular video game it acquired last year, in which players can see characters and blocky structures erected around a room. Through a couple of simple gestures and voice commands, a person can blow a virtual hole in a coffee table to examine imaginary lava flowing beneath it.
Microsoft said the headset would be available around the same time that Windows 10 is released, which is expected to be this year. The company would not disclose any pricing information.
Mark Bolas, an associate professor in the school of cinematic arts at the University of Southern California and an expert on virtual and augmented reality, praised Microsoft's efforts. "The question is when we can mix virtual and real worlds seamlessly, what are we going to want to do?" he asked. "I don't think anyone has an answer to that."
While the headset generated the most buzz at the event, far more time was dedicated to Windows 10, which will run smartphones, personal computers and the Xbox One game console. It even showed the software running on an 84-inch touch-screen display, the Surface Hub, meant to be used in corporate conference rooms.
In one of its most significant moves, Microsoft said it would offer the Windows 10 operating system free to existing customers who were using the two earlier versions of its operating system, Windows 7 and Windows 8.1. Those customers will be able to update their computers to Windows 10 free for the first year after the new software is introduced.
It will make the same offer for people who use Windows Phone 8.1, the latest version of its operating system for mobile phones.
The move is intended to encourage people running Windows to upgrade quickly. One of the goals is to make life easier on software developers, by giving them a much larger audience of users running the same operating system.
Terry Myerson, an executive vice president at Microsoft, said, "Windows 10 changes the rules of the game and redefines the relationship between us and our customers."
Microsoft's HoloLens headset was developed under tight secrecy at the company over the last several years. Many of its engineers, including the technical leader of the team, Alex Kipman, created Kinect, a camera-based sensor that allows people to play video games using gestures.
The development effort was known by various code names — Project B, Aspen and Colorado, among them — that were disclosed to different sets of employees in the company. The alternate names were intended to indicate which groups were responsible if leaks occurred. Eventually, the team working on the project grew to about 1,000 people.
James L. McQuivey, an analyst at Forrester Research, a technology research firm, predicted that the headset could have a profound impact on how people interact with technology.
"If successful," he said, "HoloLens will ultimately expand the way people interact with machines just as the mouse-based interface did in the 1990s, and touch interfaces did after the introduction of the iPhone in 2007."
---