Podcasting Blossoms, but in Slow Mo...
Podcasting Blossoms, but in Slow Motion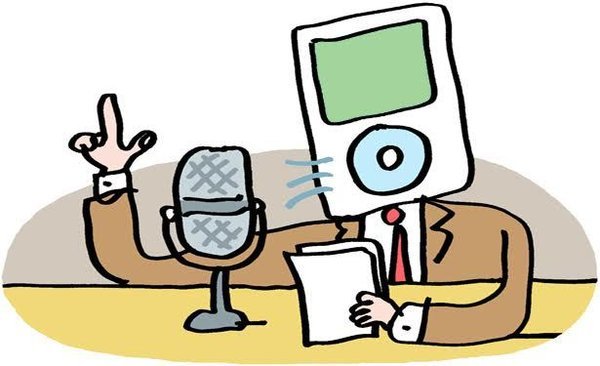 Is podcasting in the middle of a long boom or a short bubble? The future of radio, a medium already being buffeted by streaming music, may be riding on the answer.
Podcasting — a terrible tech insider's name for delivering radiolike shows directly to your phone — has long been prone to cycles of hype and doom. While the medium is more than a decade old, from the moment the very first pods were cast, people have been calling podcasting either the world's next great media revolution, or another failed byway in digital experimentation.
The truth, as ever, is somewhere in the middle. The breakout success last fall of "Serial," a true-crime investigation spun off by the public radio show "This American Life," attracted serious mainstream attention to podcasts, and set off another storm of boosterism about their place in the future of media. Now, the hype has cooled, but podcasting is still chugging along.
The largest podcasting operations are attracting sizable audiences and advertising revenue. The ads work. Large and small advertisers report a significant upside to the campaigns they run on podcasts, and ad rates on top-tier podcasts approach $100 per thousand listeners, which is many times what it costs advertisers to reach audiences in most other digital formats. Yet the overall audience for podcasts is growing very slowly. In February, Edison Research reported that 17 percent of Americans had listened to one podcast in the previous month. That is up just slightly from Edison's 2012 survey, when 14 percent of Americans had done so. The business also has some problems, including a labor-intensive ad-buying process, a shortage of audio producers and the inability to accurately measure who is listening.
So don't call podcasting a bubble or a bust. Instead, it is that rarest thing in the technology industry: a slow, steady and unrelentingly persistent digital tortoise that could eventually — but who really knows? — slay the analog behemoths in its path.
One company worth watching is Gimlet Media, a podcasting start-up founded last year by the public radio star Alex Blumberg and his business partner, Matthew Lieber. Gimlet, which raised nearly $1.5 million from investors and employs 18 people, now shows three production-heavy narrative podcasts — programs that, in their sound and journalistic integrity, are analogous to "Serial" and "This American Life."
The company has found a substantial audience. Gimlet's shows attract four million listeners a month, a number that has doubled since the beginning of the year. (Gimlet counts one download or stream of a show as a single "listen"; as I'll explain below, this measurement may not necessarily be accurate.)
Gimlet is betting that high production values will win the future of podcasting. Gimlet's shows also suggest that podcasting can foster new kinds of programming that might never have taken off in traditional radio.
For instance, the premise of "Mystery Show," Gimlet's newest production, which began playing last month, sounds a bit like a stunt. On each episode, Starlee Kine, a longtime public radio personality, solves mysteries for people. But Ms. Kine does not investigate the kind of serious mysteries addressed by the producers of "Serial." Instead her inquiries are the sort of ridiculously fun questions that no journalist would ever get paid to answer. Why, for example, was Britney Spears once seen carrying a book by a writer that no one ever reads?
Mr. Blumberg said that he couldn't imagine the show running on traditional radio. "It feels so new," he said. "It's sort of like comedy journalism. We follow the rules of journalism, but the purpose is to make you feel something. The purpose is amusement and entertainment." (Speaking of comedy journalism, I do a weekly tech-commentary podcast with a friend who works at Business Insider.)
"Mystery Show" has also proved Gimlet's thesis that a network of shows can create a self-sustaining audience. With the possible exception of "Serial," podcasts aren't really part of the viral web. They don't get chatted about on Facebook and Twitter, and the sharing and discovery features of many podcasting apps are limited. For the most part, people hear about new podcasts from other podcasts they already listen to. And once people start listening to podcasts, they keep listening to more podcasts.
The share of podcasts in Americans' diet of audio programming grew by 18 percent from 2014 to 2015, according to Edison. People who listen to podcasts daily spend about two hours a day, on average, with podcasts, a larger share than for any other form of audio, Edison reported.
For Gimlet, listeners' willingness to try new podcasts has translated into instant audiences for its newest shows. "Startup," the company's first show, took 30 days to reach 100,000 listeners a week. Its weekly audience is now more than 500,000. "Mystery Show" took four days to reach 100,000 listeners, mainly because it was being promoted by Gimlet's two other shows. By its fourth episode, its audience was about 250,000 weekly listens.
Banking on a similar effect, in February, the parent company of the web magazine Slate — which has been producing podcasts for years — created Panoply, a network of shows it produces with media partners, including The New York Times. Matt Turck, the chief revenue officer for Panoply, said the audience for Slate's own podcasts grew from two million downloads a month to six million downloads a month in 2014. By combining many shows into a single network, Panoply hopes to sell a single large audience to advertisers.
Neither Panoply nor Gimlet would discuss revenue or profits in detail, but both said the advertising business was booming. Podcast advertising has been dominated by a regular cast of mainly tech companies looking to attract a relatively wealthy audience with an affinity for technology. Firms like Audible, Stamps.com, MailChimp, Squarespace and several apparel and food companies are regular sponsors. More recently, podcasts have also begun to attract large entertainment marketers — movies and TV shows now advertise on podcasts — and even large national brands like Ford and Acura have sponsored shows.
Several advertisers told me that podcast ads had proved to be tremendously effective. They can't be easily skipped, and because they are often read by hosts, audiences are often convinced of their authenticity. "We feel it creates a deep personal connection to our brand," said Ryan Stansky, the marketing manager who runs podcast advertising at Squarespace, which currently sponsors hundreds of podcasts.
Even though rates are high, selling ads is still a laborious process and top-tier shows limit the number of ads that appear in each show. The more ads that appear, the less each advertiser will pay, a dynamic that may limit the upside of the business. There are also technical problems to be solved. Podcasters can count their downloads, but it's difficult to tell if downloads translate to listeners, and it's nearly impossible to tell who is listening, and to figure out what sort of ads listeners may like. There are also few standards in the business, which means podcasters and advertisers are often suspicious of one another's claims.
"I've heard directly from sales reps in casual settings that numbers get lied about," Mr. Stansky said. "I've heard that from the other side — sales reps that I've worked with saying, 'Yeah, we lied to you about numbers.' And to me, that's the most scary part of it all, that you're paying for something that you're not actually getting."
Podcasters concede that dodgy numbers are a problem, but they argue it is one that will be solved as the business matures and technology improves. Several advertisers, including Squarespace, create "offer codes" or specific web links to promote as part of their ads — a way to track how many customers podcasts bring to their sites. Larger advertisers like Ford said their investments in podcast marketing are small, so the numbers aren't being watched closely. And the Interactive Advertising Bureau, an online ad trade group, is creating standards for podcast audience measurement.
In other words, there is a lot about this business that still needs to be worked out. This will most likely happen eventually. Podcasting is destined to be huge, both as a medium and a business. "It's the future of radio," Mr. Turck of Panoply said. Just don't expect that future to come tomorrow.
---