Start-Ups Picked by Disney Hint at ...
Start-Ups Picked by Disney Hint at Future Tech for Children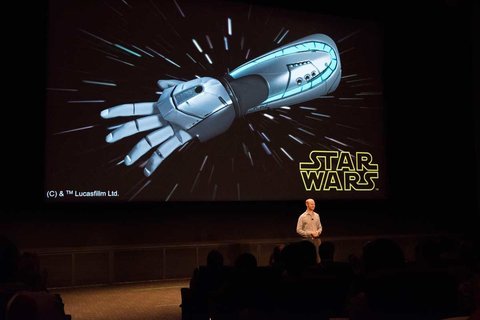 BURBANK, Calif. – How will Disney use technology to captivate the children of the future? It keeps those plans close to its sparkly vest, but there may have been clues in a presentation by 10 start-ups on Wednesday at Disney headquarters here.
Disney and a partner, Tech stars, run an annual "accelerator" program where 10 start-ups receive $120,000 and work with Disney executives for three months. Eventually, Disney and Tech Stars may take a stake in one or more.
This year, 2,000 start-ups applied to be mentored by Disney, according to David Cohen, a co-founder of Tech stars, which organizes accelerator programs around the world. Tech stars narrowed the list to 50, and then Disney picked 10 that it found most interesting. Kevin Mayer, Disney's chief strategy officer, oversees the program.
Roughly half of the companies selected this time involve using data – in one case collected directly from people's brains – to make products more appealing.
Emotiv, for instance, relies on neuroscience and futuristic headgear to "measure emotions in real time to make actionable business decisions," Tan Le, the company's chief executive, said during her presentation. Emotiv technology also allows users to move objects – Jedi-like – with only their thoughts.
Decisive collects information from social media (shares, emojis , comments) to provide a real-time score for how consumers respond to products. (Red images apparently generate less interest than purple images.) Using artificial intelligence software, Imperson allows fans to chat seamlessly online with people who don't exist, namely cartoon characters. Some details can be "remembered" by the character from chat to chat to enhance the depth of the interaction.
Several of the start-ups are already working with Disney, including Open Bionics, which creates low-cost bionic hands for amputees (Iron Man and "Frozen" versions are on the way under a royalty-free license from Disney); and StatMuse, which helps fans – and soon ESPN, a part of Disney – search sports data and visualize it.
Will any of these companies soar based on their association with Disney? It worked for at least one participant from the 2014 program: Sphero, a Colorado maker of a smart phone-controlled robotic ball, ended up with a contract to make toys based on the new "Star Wars" droid BB-8.
"We sold out our entire worldwide inventory in just a few hours," Paul Berberian,Sphero's chief executive, told the 2015 class on Wednesday.
---