Google to Test Carpooling Service i...
Google to Test Carpooling Service in Israel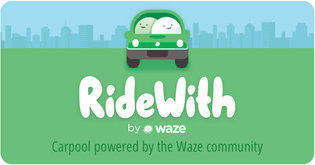 Google said on Monday that it would start testing a carpooling service in Tel Aviv through Waze, the Israeli social mapping start-up that the company bought in 2013 for $1 billion.
As part of the test, drivers will be able to use a smart phone app called Ride With to pick up passengers during rush hours, allowing them to split the cost of their rides to work.
"Carpooling can be a hassle and difficult to manage," Waze said in a blog post on Monday. "Waze has developed RideWith to serve Israeli commuters at their greatest time of need: rush hour. We hope to learn a lot from this pilot and will let you know how it goes."
Unlike similar services offered by the likes of Uber, Google's carpooling service will allow drivers to recoup only the cost of gas and wear and tear to their vehicles. Drivers will not be able to use the app to offer traditional taxi services.
The service, which is currently available only in Israel, is part of Google's increasing moves into the territory of Uber, the ride-booking service in which the search giant has invested millions of dollars through Google Ventures, its venture capital unit.
Over the last year, tensions between the two companies have mounted as both jockey to offer people new services like self-driving cars and on-demand delivery of goods like groceries.
Uber, which is valued at roughly $50 billion, has announced plans to develop autonomous cars, and has a team of engineers working on digital mapping technology. The company also has made a tentative offer for Nokia's digital mapping unit.
Uber has started its own carpooling service in the United States, which allows users to divide the cost of a ride when traveling in the same direction.
Google also has explored the idea of offering same-day delivery of items like groceries, an area in which Uber also has experimented.
By limiting how much people can charge for the carpooling service in Israel, Google also is challenging a service by the French start-up BlaBlaCar, which is rumored to be valued at $1 billion after expanding across Europe and beyond.
BlaBlaCar, whose service is available from Mexico to Russia but not in the United States, allows people to book long-distance rides through a smartphone app and split the cost.
---