New Safety Rules Weighed for Magnet...
New Safety Rules Weighed for Magnets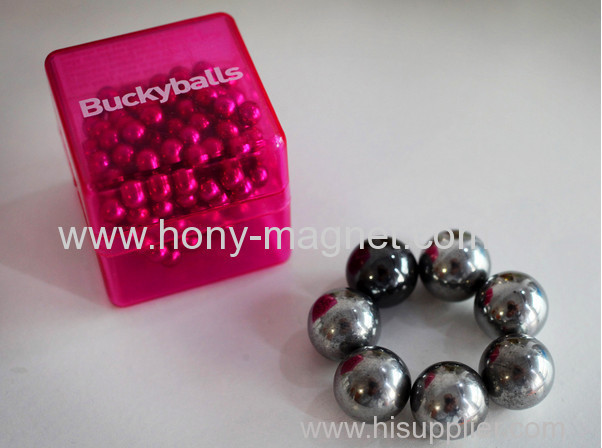 Late last summer, the worried mother of Annaka Chaffin, a 19-month-old from Columbus, Ohio, took her daughter to a hospital. The girl showed signs of a stomach bug, and after an exam, the hospital staff determined that she was probably suffering from a virus and sent her home.
The next day, Annaka was found unresponsive, with blood coming from her nose and mouth. Within hours, she was pronounced dead.
An autopsy showed magnets in the girl's small intestine, according to a report by the Franklin County coroner's office. The magnets had become attached to one another, cutting off the blood supply to her stomach and eventually killing her.
The Consumer Product Safety Commission cited the Chaffin case on Wednesday during a hearing to discuss potential new rules governing high-powered magnets,which the agency believes pose a special risk to children. From 2009 to 2013, roughly 2,900 children and teenagers went to the emergency room because they had ingested at least one high-powered magnet, according to the commission.
"These are not like the magnets you used to put on your refrigerator door," said Dr. R. Adam Noel, an associate professor of pediatric gastroenterology at Baylor College of Medicine. "One kilogram of these drives a Prius."
The ingestion hazard gained national attention when the safety agency began a two-year battle with Maxfield & Oberton, the creator of Buckyballs, sets of highly magnetic stacking spheres that were recalled in July. The company shut down in 2012.
The desktop toy, created by two friends from Brooklyn, was a quick success when it was introduced in 2009, in part because the balls were much more powerful than normal magnets.
The United States regulates the magnets used in children's toys, but it does not regulate magnets marketed for adults. The commission may change that by imposing new standards that would require magnets to be either too large for a child's throat, or only about one-fiftieth as powerful as a Buckyball and other similar products. The agency's commissioners are expected to vote on the proposed rules in the next few weeks.
The measurement of a magnet's power — known as a "flux index" — is already capped for children's toys.
Advocates for new rules say that since magnet sets often contain more than 100 small magnets, they can easily be lost around the house, dropping onto floors and disappearing into rugs where small children can find them, pick them up and swallow them.
"This containment issue is very difficult for parents to stay on top of, if not impossible," said Jonathan Midgett, an engineering psychologist at the safety commission who spoke at the hearing on Wednesday. Mr. Midgett pointed to the case of a toddler who had to have most of an intestine removed after swallowing several high-powered magnets.
"The number of injuries continues to grow," Mr. Midgett said. "As those numbers grow, so does my concern that we really need to do something."
In anticipation of the new rules, Craig Zucker, the former head of Maxfield & Oberton, began selling Liberty Balls, a different type of magnet that would comply with the new standards, online. Sales of Liberty Balls continue to help pay for Mr. Zucker's legal bills related to the Buckyballs recall, according to a spokeswoman, Elise Flick.
With Buckyballs officially recalled, the safety commission is now focused on Zen Magnets, a Denver-based company that has also spent years fighting over its high-powered magnets. The commission has been trying to force the company to recall its products, a move that its founder, Shihan Qu, said would effectively put the company out of business.
Mr. Qu said that he had offered to make concessions to make his products safer and less accessible to children, but that the agency did not deem them satisfactory. He also said that he believed the actual number of magnet injuries was far below 2,900.
"I think it's certainly true that they're more dangerous when they're consumed than many other objects," Mr. Qu said in an interview. "I think limitations are appropriate, but I think what they're going for is not just limitation. They're going for a death penalty for the product category."
---