'Hack the Dinos' Helps Paleontologi...
'Hack the Dinos' Helps Paleontologists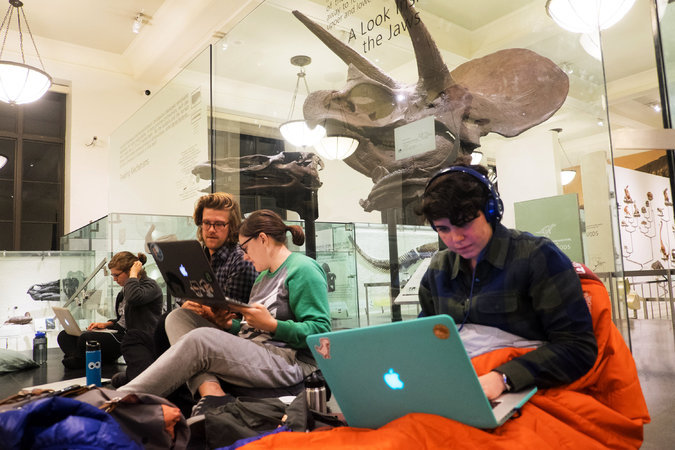 Kaleigh Clary, a computer science graduate student at the University of Massachusetts Amherst, drove down to offer a day of free work for the American Museum of Natural History.
Why?
"Dinosaurs, man," Ms. Clary said.
Computer programmers, it appears, like dinosaurs, a lot.
She was one of almost 150 people who gathered for the museum's "Hack the Dinos" challenge in November to create software tools to help dinosaur scientists.
Like many fields of science, paleontology is now awash in data. Paleontologists no longer just look at and describe fossils. They also put the bones in CT scanners, generating gigabytes of images and data. That opens up new research like reconstructing the size and shapes of the brains of dinosaurs and comparing them with those of modern birds, which descended from dinosaurs.
That analysis can be excruciatingly laborious. For each X-ray slice of the skull, a scientist typically has to trace the outline of the interior space. (The edge between rock and fossil is not always obvious.)
Hackathons have become a popular way of enlisting enthusiastic programmers to produce software in bursts of a few hours to a few days. The museum put out a challenge looking for help "as a way to volunteer," said Christina Wallace, one of the hackathon organizers. "It's a pro bono challenge."
Winners received one-year memberships to the museum and three-dimensional printed busts of Theodore Roosevelt. "More importantly, they'll get bragging rights for the next 12 months," Ms. Wallace said.
"Hack the Dinos" was the museum's second hackathon. A year earlier, the challenge was "Hack the Universe," to crunch through astronomy data.
The museum's paleontologists brainstormed for months about digital tools that they wished existed.
Automating skull analysis was one item on the wish list. Others included modernizing the venerable field notebook to the age of smartphones and converting cladograms — the family trees that show the evolutionary relationships among species — to digital formats. (Nowadays, paleontologists produce digital files that are easily shared and compared, but there are many more from earlier years that exist only on paper.)
The paleontologists also hoped to ease the workload of Carl Mehling, the museum staff member who replies when someone sends in a photograph with the question, "Is this a fossil?"
"This is doing good," said one of the participants, Peter Lenz, who works at the Dstillery, a New York company that takes a data science approach to marketing and branding. "You're doing it because you like dinosaurs."
The programmers, graphic designers and data scientists met on a Friday night to divide into teams and quiz paleontologists about the problems and data. They began hacking the next afternoon.
After the museum closed, some teams spread out among the quiet, empty dinosaur halls. "I really just wanted to stay overnight in the museum," said Jessie Contour, who is working on a master of fine arts degree at Parsons School of Design.
At 11:30 p.m., there was a dance party, although most participants remained sitting at their laptops. "Now if anyone gets deep vein thrombosis, it's not my fault," Ms. Wallace joked.
Later, museum volunteers set out cots for participants.
"There was a mouse that kept me company all night," said Gabriela Gutierrez, another participant. "Thank god for the cots."
In the morning, Ms. Wallace walked around blasting Taylor Swift music from a phone to wake everyone for a few more hours of work.
"I would be ashamed at the state of the code," Mr. Lenz said. "But for 22 hours without sleep, it's really great."
On Sunday afternoon, the teams presented what they had produced.
Ms. Contour was a member of a team that created a smartphone app, Foss'l, to help Mr. Mehling. "We wanted to combine the experience of being able to submit your fossils to poor Carl with a learning experience," she said.
She described it as "Tinder for fossils," referring to the popular dating app, tapping the wisdom of the masses in a gamelike app.
Jack Tseng, a postdoctoral paleontological researcher at the museum who was a judge, said he was impressed by all of the efforts, but in particular "Sapling Detector," which converted the paper evolutionary trees to electronic format. Although not as flashy as some of the others, "that's something I would use right away," he said. "It solves the problem we were trying to solve."
---