Reinventing Google for a Mobile Wor...
Reinventing Google for a Mobile World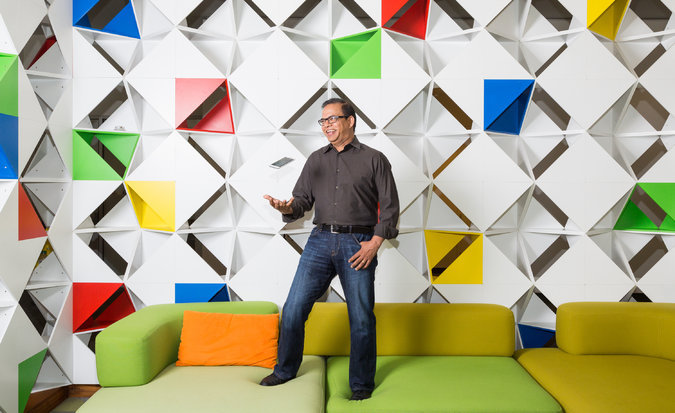 Amit Singhal, Google's search chief, oversees the 200 or so factors that determine where websites rank in the company's search engine, which means he decides if your website lives or dies. His current challenge: figuring out how to spread that same fear and influence to mobile phones.
In a recent interview at Google's headquarters in Mountain View, Calif., Mr. Singhal laid out a widely held thesis for why smartphones are fundamentally changing how people are consuming information: Phones have small screens that are annoying to type on, and people have grown so addicted to their phones that they carry them everywhere and go to bed with them by their side. Also, in a shift with big implications for his company's sway over the Internet, smartphone users spend the bulk of their time in mobile apps instead of the open web on which Google built its business.
Add it all up, and "you have to rethink what search means pretty much from first principles," he said.
That helps explain why Mr. Singhal and his group are engaged in a race that has erupted across Silicon Valley to become the Google of Apps. Mr. Singhal, an engineer who was born in India, joined Google in 2000. He has spent the last 15 years adding speed and intelligence to the Google search box, which is just 17 years old but already sits alongside the Golden Arches in terms of cultural and economic impact. Today, however, as people spend more time on mobile devices, competitors are popping up everywhere and Google, while still a fast-growing and highly profitable company, is slipping in its position as the gateway to the Internet.
Venture capitalists are funding new search start-ups that treat information and the web as legacy products and that focus on actions and apps instead. And while Google, with $65 billion in the bank, can buy any start-up it likes, one company it cannot buy — Apple — is also joining the mobile search fray. On Thursday, Apple released an early, or "beta," version of the next version of its iOS mobile software, giving iPhone and iPad users the ability to tap Apple's own search engine for searches of music, apps and local services — allowing them to potentially bypass Google.
Google is a mobile force in many different ways: In the United States and several other countries, search queries to Google on mobile devices now outrank search queries on desktop and laptop computers. It has the world's largest mobile operating system, Android. It makes billions of dollars a year selling apps through the Google Play Store and owns many of the world's most popular apps, such as YouTube.
But that has created competing priorities because apps have also diluted its position in search. Google claimed 68 percent of mobile search revenue in the United States last year, according to the research firm eMarketer. That lead, while still substantial, was down from 81 percent in 2012, a decline projected to continue as apps occupy more of people's time.
"On a phone, the biggest intellectual difference is you don't go to your search box as your first resort," said Keith Rabois, a partner at the venture capital firm Khosla Ventures, who has invested in a search start-up called Relcy. "On a watch, it's inconceivable that you would go to a search box perhaps at all."
John Lilly, a venture capitalist at Greylock Partners, said the real prize in mobile search was "whoever figures out what questions people really want to ask their phones while they are walking around, and how they will ask those questions." That is "very unlikely to look like it did five years ago, when you typed it into a box," he said.
Mr. Singhal and his group are trying to get ahead of all this with a combination of offense and defense. He and his team have moved to reinforce the golden goose that is Google's web-based search engine by updating its ranking algorithms so that websites it deems mobile-unfriendly fall in search rankings.
And they have spent five years building products like the Knowledge Graph, which responds to queries with answers. That adds power to tools like voice search and produces instant results that smartphone users appreciate because if the answer is right, they can just glance at their phone and move on, without having to click anything.
In June, Mr. Singhal's group also introduced Now on Tap, an ambitious project that will be available on Android-based phones that will embed search inside features like text messages and apps. That lets people search more easily on mobile — just do a long tap on the home screen button — without having to cut and paste words or type into a search box.
"My job is not to just look at the trend today. My job is to look at what's beyond the horizon," Mr. Singhal said in the interview. "And beyond the horizon, there is so much more people can do on their devices that is not possible today."
Mr. Singhal, 47, was born in India's Uttar Pradesh State and grew up on the edge of the Himalayas. He came to the United States in 1990 to earn a master's degree at the University of Minnesota. He later received a Ph.D. in computer science at Cornell University, where he studied with Gerard Salton, a pioneer in the information retrieval field, which laid the foundation for the algorithmic searches that we now use to find plane tickets.
"Back then, I always found myself in cold places," Mr. Singhal explained on his personal website.
He was working at AT&T's Bell Labs when he was recruited to join Google in 2000 by Krishna Bharat, an Indian engineer who created Google News. He was Google's 176th employee and rewrote many of the original search algorithms created by the founders Larry Page and Sergey Brin. Mr. Singhal reports to Sundar Pichai, who oversees almost all of Google's product areas.
In the recent interview, Mr. Singhal illustrated the evolution of Google's search business by taking out his phone and asking questions about things like music and trivia.
At one point he asked the phone about Rihanna to show off the company's voice technology and demonstrate how mobile search results come with tappable actions such as the ability to play Rihanna music. A moment later, in what appeared to be a well-practiced demonstration, he asked the phone, "Which person was struck by lightning seven times and survived?" A robotic voice answered, "Roy Sullivan."
"Kids love questions like this," he said.
Mr. Singhal said that while mobile phones are changing the world quickly, people still want and need many of the same things, whether they are in apps or on the web. A good deal of time is still spent shopping for jeans or looking for a new place to eat lunch.
"Your need to find the best service for what you need to do has not gone away," Mr. Singhal said.
His belief is that the answers are unlikely to be different just because we are asking them with a phone instead of a computer, and the guts of Google's search technology, which have been adapted into many new products such as Now on Tap, remain the best at figuring it out.
"Algorithms and learnings that we have had for 15 years of running Google are actually coming in tremendously handy in building the future," he said. "Without those, we would be lost today."
---