China's Other E-Commerce Giant Foll...
China's Other E-Commerce Giant Follows Its Own Path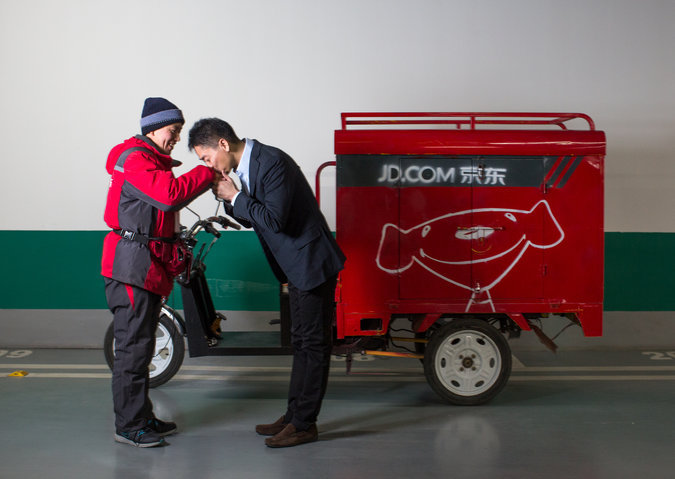 BEIJING — Just about every June, on the anniversary of his company's founding, Richard Liu dons a big motorcycle helmet and red uniform, hops on a three-wheeled electric bike and makes home deliveries for his e-commerce company JD.com.
It is in part a publicity stunt for Mr. Liu, the 41-year-old billionaire who is the company's chairman and chief executive. But it is also a way to better understand the technical and logistical challenges facing JD, which is in a pitched battle for e-commerce supremacy in the world's second-biggest economy after the United States.
Long overshadowed by its rival Alibaba, JD has emerged as China's other online goliath by carving out its own distinct identity. While Alibaba's marketplace serves as a platform to connect buyers and sellers, JD buys goods from manufacturers and distributors and holds the inventory in its own warehouses, in a model that echoes Amazon's. It then arranges for quick delivery of virtually everything from television sets and refrigerators to socks and T-shirts, using motorbikes that weave in and out of traffic in some of the country's biggest cities. Like Amazon, JD has invested heavily in infrastructure, pumping more than $1.5 billion into building and leasing warehouses and order-fulfillment centers around China. But JD has gone even further, venturing into home delivery with its own fleet of trucks and more than 20,000 couriers, all in the hope of capturing what is projected to be a $1 trillion Chinese e-commerce market by 2020.
JD, which is publicly traded in the United States, is now China's biggest direct-sales retailer, with 46 million active users and an estimated $20 billion in revenue last year.
"This isn't a business model for everyone, but they were smart to build it," said Elinor Leung, a Hong Kong-based Internet analyst at CLSA, an investment bank. "Now, their traffic is exploding."
And yet this costly approach to building an online retailer has worried some analysts, who say that JD could be weighed down by its physical assets and mounting debt. Several analysts say the company won't turn a profit before 2017. Competitors like Jack Ma, chairman of Alibaba, have even disparaged the company's business model, calling it tragically flawed.
"It's not that we are better," Mr. Ma said in a recently published interview. "It's an issue of direction. So, I tell my people: Definitely do not get involved with JD.com. Don't come blaming us if you die one day." He later apologized for his comments.
Executives at JD, which is based in Beijing, insist they are building a company that will eventually have a commanding advantage in e-commerce, with strong customer service, speedy delivery and assurances that the products it ships are authentic, not counterfeit. Among the biggest challenges now, they say, is keeping up with an enormous volume of online orders, which have doubled in each of the last three years.
"If we wanted, we could be profitable right now," said Shen Haoyu, chief executive of JD Mall, the company's biggest division. "But our immediate goal is to grow our customer base."
JD is a product of its founder's ambitions. The son of a cargo shipowner, Mr. Liu grew up in one of the poorest parts of east China's Jiangsu Province, before arriving in Beijing to study sociology at Renmin University.
During his spare time in college, he wrote software code and earned enough money to buy a small restaurant near campus. He says the restaurant failed after staff members embezzled large sums of money.
After college, Mr. Liu, whose Chinese name is Liu Qiangdong, worked briefly for a Japanese company before going into business for himself. He rented space at an electronics market in the city's high-tech zone, called Zhongguancun, to sell software and electronics, including compact disc burners. Within a few years, he owned brick-and-mortar electronics shops in three cities.
In 2004, when his stores began selling goods on the web, online shopping was just beginning to take shape in China, led by start-ups like Dangdang, Joyo and Alibaba's Taobao site. JD, whose English name at the time was 360Buy.com, thrived on low prices and fast delivery, part of its motto today.
With money running low in 2006, Mr. Liu sought $2 million from a Hong Kong venture capital firm. The firm, Capital Today, put up $10 million instead, for a large minority stake. The stake is now worth close to $2.4 billion, even after the firm sold some of its shares.
The capital injection helped JD expand its product offering beyond electronics and develop new systems and software. The expansion, in turn, helped lure bigger investors, such as Tiger Global, the Russian billionaire Yuri Milner, Prince Alwaleed bin Talal of Saudi Arabia and the Waltons, the family behind Walmart Stores.
"The first time I met him, I knew he was smart and trustworthy, and that he had a killer instinct," said Kathy Xu, the partner who led the Capital Today investment.
Investors bought into Mr. Liu's vision for a full-service online retailer.
At the time, China's package delivery services were terrible. The country had new roads and bridges, but truck shipments were hampered by poor service, toll roads and other bottlenecks. With no Chinese equivalent of FedEx or UPS, packages often arrived late, in dented boxes.
"Back then, 70 percent of our complaints were about deliveries, and everything was very slow," Mr. Liu said during an interview at the company's headquarters. "We realized logistics is related to user experience."
So beginning in 2007, JD did something no other Chinese e-commerce company was willing to do then or since. It started building an integrated logistics network from scratch, promising to cater to customers from click to drop-off.
Today, the company boasts seven fulfillment centers and 118 warehouses in 39 cities. There are also 1,045 smaller pickup centers in about 500 cities. And since 2010, the company has pledged that most online orders placed before 11 at night will be delivered by 3 p.m. the next day.
Morgan Stanley calls JD's business model a combination of Amazon and UPS; other analysts say the company is beginning to look like Walmart, steeped in logistics and infrastructure and backed by a website.
JD "has made it clear they will not only be a retailer but also an online supply chain and finance company," said Lu Jianping, who teaches e-commerce at East China Normal University in Shanghai. "Retail is not profitable but it offers trading volume and cash flow. In the future, the main profits will come from finance and the supply chain."
By following its own path, JD has sought to make online shopping easier for China's growing consumer class, promising authentic goods, delivered on time, for little or no delivery fee — and with a receipt, something hard to come by in a country where tax evasion is rampant.
Today, traffic to its website is exploding and the company is filling more than two million orders a day. No other direct sales retailer in the world has seen its revenue grow as quickly as JD, not even Amazon.
American Internet start-ups have struggled in China. Amazon made its big foray into China in 2004, when it paid $75 million to acquire Joyo.com, then one of China's biggest e-commerce start-ups. A decade later, Amazon's China operation has less than 2 percent of the online shopping market, according to iResearch Consulting.
And though Alibaba is better known in the United States, Mr. Liu, JD's biggest shareholder, is finding a warm reception. He led the company's public stock offering on the Nasdaq early last year, which raised $1.78 billion.
Around the same time, he also struck a deal with China's social media and mobile gaming giant Tencent, which allows JD to tap into Tencent's huge user base. Tencent now owns about 20 percent of JD.
Mr. Liu is also pushing JD into online groceries and finance, and lending to his vendors the way Alibaba does. But unlike Alibaba and Amazon, he says he has little interest in developing film or entertainment divisions.
"We don't want to produce films or TV shows, but finance, yes," Mr. Liu said, before returning to his thoughts on infrastructure. "And every few years we'll invest in new warehouses. We need some temperature-controlled warehouses."
---